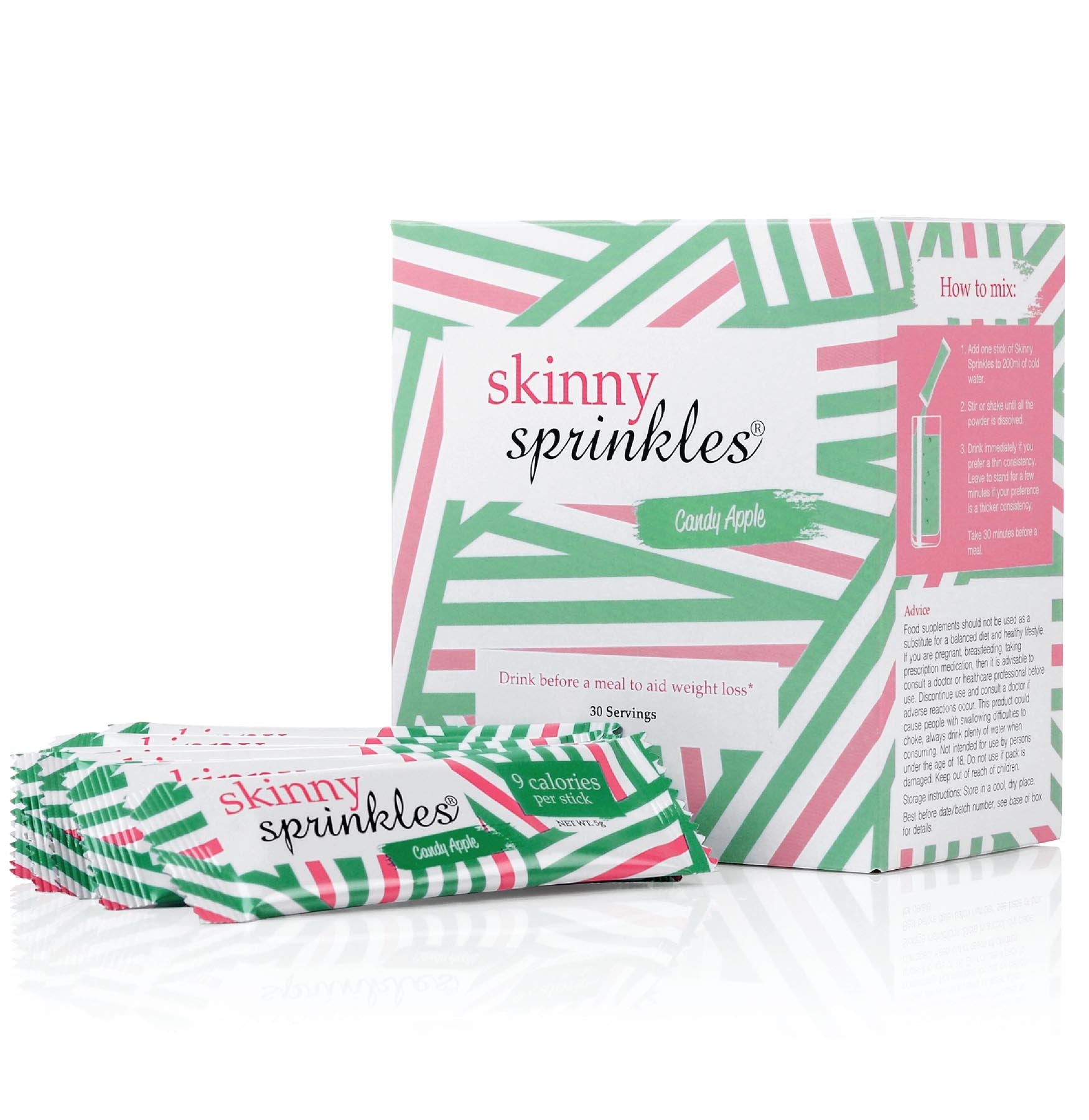 BENEFITS.
LOSE WEIGHT

SNACK LESS

FEEL FULLER FOR LONGER

MORE VITAMIN C & B3

REDUCE FATIGUE

ONLY 9 CALORIES
INGREDIENTS.
INULIN
Inulin is a dietary fibre which comes from the root of the chicory plant. It a prebiotic which effectively acts as food for the good bacteria (generally known as Probiotic's) that make up the micro flora in our stomach.
GLUCOMANNAN
It's is the glucomannan in Skinny Sprinkles which expands in your stomach and helps you feel fuller for longer. It is the only single ingredient listed on the EU Health Claims Register to aid weight reduction.
GREEN TEA EXTRACT
Green Tea gets its name from the emerald green colour created when brewing unprocessed, unfermented tea leaves. it provides high levels of the active ingredients called polyphenols.
POLYPHENOLS
There are many health benefits associated with polyphenols as they are rich antioxidants.
NATURAL CAFFEINE ANHYDROUS
The word "anhydrous" means "without water," the highly concentrated caffeine powder in Skinny Sprinkles is equivalent to a small cup of coffee. Just enough to give you that little boost.
VITAMIN C
Vitamin C is a water-soluble vitamin which means our bodies can't store it, so we need to make sure we eat enough every day. Vitamin C has a range of functions, including a key role in the growth and repair of all our tissues, helping our bodies absorb iron from plant sources. It also helps to reduce tiredness and fatigue.
NIACIN
Niacin like Vitamin C is also a water-soluble vitamin and helps to reduce tiredness and fatigue. It promotes energy production from food and is necessary to both the nervous and digestive system.
MAGNANESE
HOW IT WORKS.
Feeling hungry can be one of the biggest challenges when you're trying to lose weight. Skinny Sprinkles helps you eat less by increasing the feeling of satiety (feeling full).
TAKE THE 20 DAY CHALLENGE.
Developed by our expert nutritionist the Skinny Sprinkles Shake it Off plan combines a healthy food and exercise regime to enhance the benefits of your Skinny Sprinkles.
DOWNLOAD
"SLIMMING AID BILLED AS THE EQUIVALENT OF A GASTRIC BAND..."